Laryngoscopy:
Laryngoscopy is an endoscopy of the larynx, a part of the throat. It is a medical procedure that is used to obtain a view, for example, of the vocal folds and the glottis. Laryngoscopy may be performed to facilitate tracheal intubation during general anesthesia or cardiopulmonary resuscitation or for surgical procedures on the larynx or other parts of the upper tracheobronchial tree.
Quality Maintenance and Manufacturing Standard:
we use non-magnet stainless steel for manufacturing the blades to eliminate the risk of contamination. Cool and brighter light with no chance of tissue burning during long procedures. The superior quality of glass fiber optic gives maximum bright illumination to view the larynx of the human body. we provide detachable light which can be autoclaved separately, which makes life long of blades. Autoclave-able at 134c° 5 min, for 2000-3000 cycles at maximum light output. All blades are made to comply with ISO 7376, allow compatibility with existing blades and handles. Complete range of handles also equipped with LED lamps. LED technology has a longer additional lifetime with50,000hrs and continuous 2hrs operating time.
Manufacturer and Supplier of Laryngoscope Pakistan:
Fizza Surgical supplies laryngoscopes of both Humans Laryngoscopes and Veterinary Laryngoscopes in Sialkot Pakistan. It is a tool that is used in the examination of the larynx. The Macintosh blade is the most widely used of the curved Laryngoscope blades, while the Miller blade is the most popular style of the straight blade. Both Miller and Macintosh Laryngoscope blades are available in sizes 0 (neonatal) through 5 (Extra-large adult).
We supply Laryngoscopes all over the world. Our Laryngoscope Supplies contains a wide range of Laryngoscope blades and handles. we produce more than 15 types of Laryngoscope blades. Which is being used in different regions in the whole world on the behalf of their design and pattern that what type a Doctor prefers and feel comfortable to use for his examination process in their regions?
Laryngoscope Blades Sizes:
Few are the common sizes and Numbers used for Laryngoscope Blades.
Premature Blade                      00
Neonate    Blade                       0
Infant     Blade                          1
Child    Blade                            2
Medium Adult  Blade              3
Large Adult   Blade                 4
X-Large   Blade                        5
Laryngoscopes Blades:
Laryngoscope blades are the instruments used to examine the larynx. The laryngoscope blades are available in variety like with/without a Fiber Optic light source. The trend regarding blades has/is moving toward the disposable version.
Types of Laryngoscope Blades:
Fiber Optic Laryngoscope Blades

Conventional Laryngoscope Blades
Laryngoscopes Handles:
We manufacture Laryngoscope Handles in both Disposable and Reusable form from High Quality Material. All sizes of Laryngoscope Handles are available.
Types of Handles According to Light Source:
Fiber Optic Laryngoscope Handle

Conventional Laryngoscope handle
Laryngoscope Sets:
We can  supply every type of Laryngoscope set in Plastic case or also in Wooden Boxes. They are the following Laryngoscope Sets we manufactured.
Premature & Neonate Blade Laryngoscope Set

Infant Laryngoscope Set

Child Laryngoscope Set

Adult Laryngoscope Set

Customized Set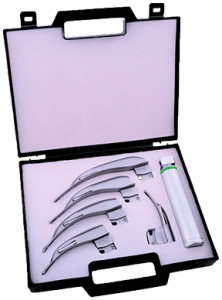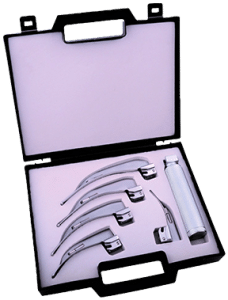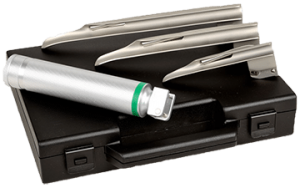 Quality Maintenance and Manufacturing Standard:
we use non-magnet stainless steel for manufacturing the blades to eliminate the risk of contamination.
 Cool and brighter light with no chance of tissue burning during long procedures.
 The superior quality of glass fiber optic gives maximum bright illumination to view the larynx of the human body.
we provide detachable light which can be autoclaved separately, which makes life long of blades.
 Autoclave-able at 134c° 5 min, for 2000-3000 cycles at maximum light output.
 All blades are made to comply with ISO 7376, allow compatibility with existing blades and handles.
 Complete range of handles also equipped with LED lamps.
 LED technology has a longer additional lifetime with 50,000hrs and continuous 2hrs operating time